MEDEVAC
& FIRECAT
GRANT HELP
The Lenco BearCat is the most versatile, multi-purpose, armored response & rescue vehicle available today. Built of Mil-Spec Armor materials on a commercial chassis, it meets the mission of SWAT, Fire, EMS, private security and Military personnel. The BearCat has been an invaluable tool for First Responders to successfully rescue civilians in severe weather events; hurricanes, floods, mud slides and can even be equipped to fight fires. The Lenco BearCat saves lives. Browse our inventory of New and Used Lenco BearCats available for delivery.
CONTACT FOR MEDEVAC GRANT INFO
Let us assist your agency in getting grant funding for a new Advanced Rescue MedEvac G3
Pre Owned Vehicles
Our used vehicles are dealer serviced and inspected by Lenco professionals to ensure our quality standards are met. These vehicles offer the same ballistic protection as the new BearCats rolling off the line at a fraction of the cost. Contact us today to learn more about our used vehicle program.
New inventory
The BearCat is operated by First Responders to respond to emergencies and perform rescue operations that other vehicles simply cannot. It has demonstrated its value as a life-saving piece of equipment that helps Fire Rescue and EMS  get their job done and return home safely to their families.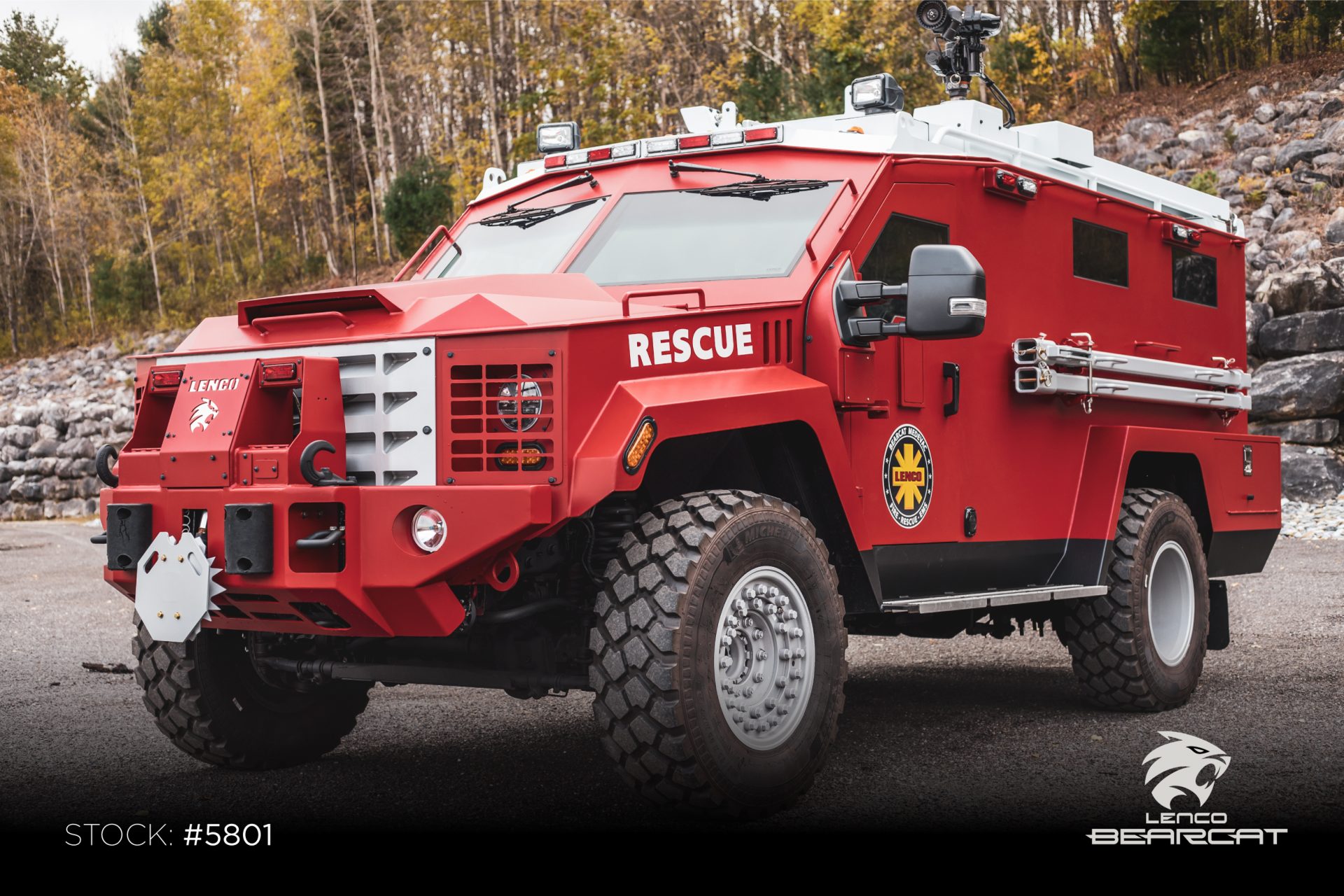 Details
Designed to meet the needs of First Responders & Tactical EMS teams
All Steel Armor Construction
On-Board Oxygen tanks, lighted work station, ample compartments for medical supplies
Increased vehicle length provides room for (2) Litters
V8 Turbo Diesel Engine; 4×4
Up to 45 Cu. Ft. of Enclosed Storage
Adjustable Fog Nozzle 125-360 GPM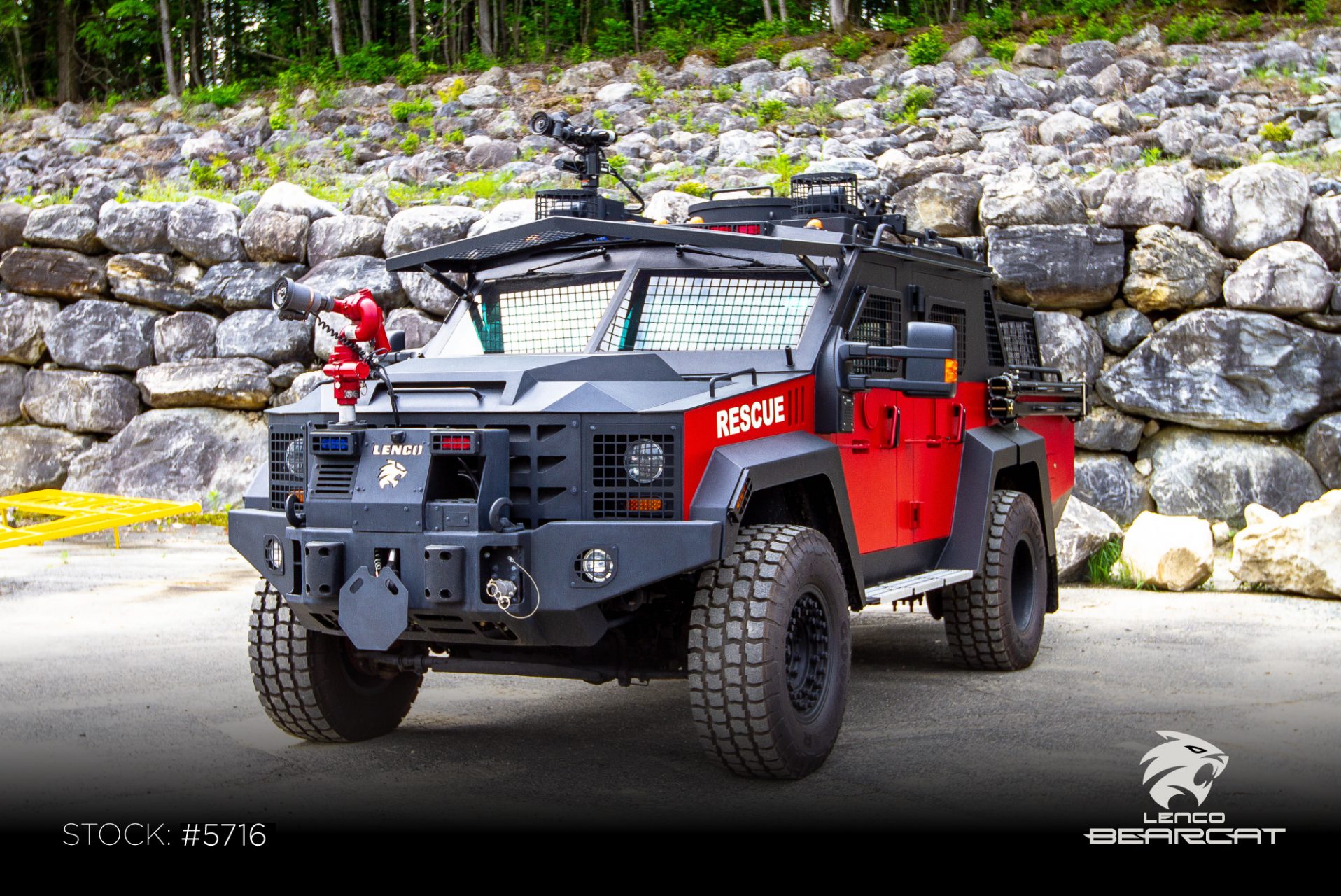 Details
All Steel Armor Construction
High Ballistic Protection
V8 Turbo Diesel Engine; 4×4
Modular 'Utility Bed' Design
Commonality of parts with other BearCat variants
"I THINK IT'S AN ABSOLUTE NEED FOR LAW ENFORCEMENT TODAY … LOOK AT TODAY'S WORLD. THESE ACTIVE SHOOTERS, THESE TERRORIST SITUATIONS – THIS STUFF IS REAL."
-FREDERICK COUNTY SHERIFF CHUCK JENKINS
(REPORTED BY KATE MASTERS, THE FREDERICK NEWS POST)
"The role this specialty vehicle played in the emergency response configuration for this disaster (Hurricane Irma) may never be fully appreciated, but it proved one way to address the great concern public safety officers have regarding restricted response."
– Frank Babinec, Chief of the Coral Springs Parkland Fire Dept.
(Reported EMS World Magazine)
"
"This past week, Lenco BearCats were used in two very different roles and were credited with saving lives in both scenarios – A stand-off in South Jersey … [and on] the opposite coast, [where] mudslides were causing havoc to fire-ravaged hillsides in Santa Barbara County, California."
-PoliceOne.com
 "We were able to get right in front of the structure with the appropriate personnel and stay protected while relaying valuable intel back to the perimeter units. I was able to see the hostage walking in the hallway and confirm thatthere was no one else following him."
–Sgt. Matthew Vogel
Toll Free: 1-800-444-5362
In MA: (413) 443-7359
Location
10 Betnr Industrial Dr.
Pittsfield, MA 01201
Email
info@lencoarmor.com
Hours
Mon – Fri: 8:30AM – 5:00PM EST