As fire departments and EMS agencies rise to meet the increasing demands of all-hazards response, ownership of a BearCat armored vehicle is a growing necessity, offering rescue personnel the ability to save lives during even the most extreme conditions.
The BearCat can operate in situations where traditional rescue apparatus cannot, including high winds, high water, blizzards, and mudslides. It allows rescuers to perform immediate search and rescue through hazardous conditions following events such as wildfires and tornadoes.
With ownership in the emergency services sector growing, the BearCat has built a track record proving its effectiveness in these conditions, and is establishing a new standard and expectation for community emergency response.
Built on a (Ford) F550 Commercial Chassis, the BearCat is intuitive for rescue personnel to operate and maintain, and offers multiple fire and EMS models designed to meet requests from the emergency services sector to address growing climate response needs.
These models can be configured to be mission-specific to address an array of weather and disaster response scenarios. BearCats can withstand 230+ mph wind speeds, and are impact-resistant up to 40,000 lbs. Optional features include a Deep Water Fording kit, Search and Rescue Cameras, Recovery Winch, Hazardous Material Detection and Medically-equipped interior layouts.
Another variation known as the FireCat, is designed for fire response, and can be fitted with features including a 300-gallon modular skid unit and roof-mounted nozzle. The FireCat also has a hook-up to connect to a water line or pumper truck for continuous water flow. The vehicle can also be equipped with a bumper-mounted forestry nozzle for pump and roll operations.
The following events demonstrate how the BearCat played an important role in rescuing citizens during weather events where traditional emergency services vehicles were not equipped to respond.
Mudslides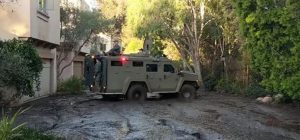 When severe mudslides brought unprecedented challenges to the Santa Barbara County area of California in 2018, the sheriff's office utilized its two BearCats to assist in evacuations and make dozens of rescues.
Though a mandatory evacuation order was given, some residents were unable to leave and became stranded in their homes. Many found the mud too deep to even access their vehicles or walk to safety.
The BearCats went through neighborhoods, able to navigate through several feet of mud. Though the county had utilized the BearCats previously, this was the first time they had utilized them for evacuation and rescue.
Thanks to the vehicles' four-wheel drive and off-road capabilities with high ground clearance, the sheriff's office reported, the BearCats were able to cover hazardous terrain to access homes that were otherwise cut off by mud, boulders, and other debris.
Snow
While Colorado sees its fair share of snow, a blizzard in 2021 trapped so many cars in the city of Aurora that the local police department used its BearCats to rescue motorists from a highway, multiple roads, and highway off-ramps.
During the incident, even some SUVs, trucks, and a snow plow struggled to get through, and those who abandoned their vehicles made little headway in snow sometimes waist-high, according to a news report.
As the city declared a disaster, however, the BearCats were able to reach those who were stranded, relying on those features including off-road capabilities, high ground clearance, wind resistance, and seating for up to twelve people.
The rescued motorists, which included multiple children, were able to warm up in the vehicles as rescuers transported them to safety.
High Winds and Hurricanes
As Hurricane Irma hit Florida in 2017, the Coral Springs Parkland Fire Department and Coral Springs Police Department were forced to restrict their 9-1-1 responses. The majority of fire, EMS, and police vehicles are either too light or top-heavy to operate in high winds or are too vulnerable to flying debris.
In preparation for such circumstances, however, the police department had purchased a BearCat eight years earlier, which allowed a response team of three police officers and two firefighter/paramedics—with a full complement of ALS equipment—to continue to answer high-priority calls.
Thanks to its weight of approximately 10 tons, its low center of gravity, and its ability to withstand hurricane-force projectiles, the BearCat was able to safely respond to 13 priority calls during the crisis, which included assisting in the delivery and transport of a baby born during the storm, wrote former chief Frank Babinec of the Coral Springs Parkland Fire Department.
Floods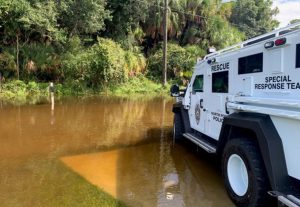 When torrential rainfall from Hurricane Elsa flooded the city of North Port, Florida in 2021, many were left trapped by the high water.
As residents waited for the floods to recede, rescuers utilized vehicles including the police department's BearCat equipped with a deep water fording kit to rescue several people in the most impacted areas, including a special needs child, a news report showed.
Thanks to the BearCat's ability to drive through deep water, officers were able to reach the child and transport her to safety.
In such cases the BearCat not only provides physical safety, but a secure and dry environment that may ease rescue efforts for those who are fearful or resistant, saving time and increasing safety for all those involved.
About Lenco Armored Vehicles
Since its founding in 1981, Lenco Armored Vehicles has been the most trusted manufacturer of tactical armored security vehicles by law enforcement, fire and rescue and government entities worldwide. The privately held, family-owned and -operated company revolutionized tactical response with the advent of the BEAR® and BearCat®, and since, has designed and fabricated more than 6,000 armored vehicles in service by more than 800 state and federal agencies in all 50 states. Lenco prides itself on protecting defenders around the world and serving as the standard in the industry. For more information about Lenco Armored Vehicles, visit: https://www.lencoarmor.com/